HOLE BY HOLE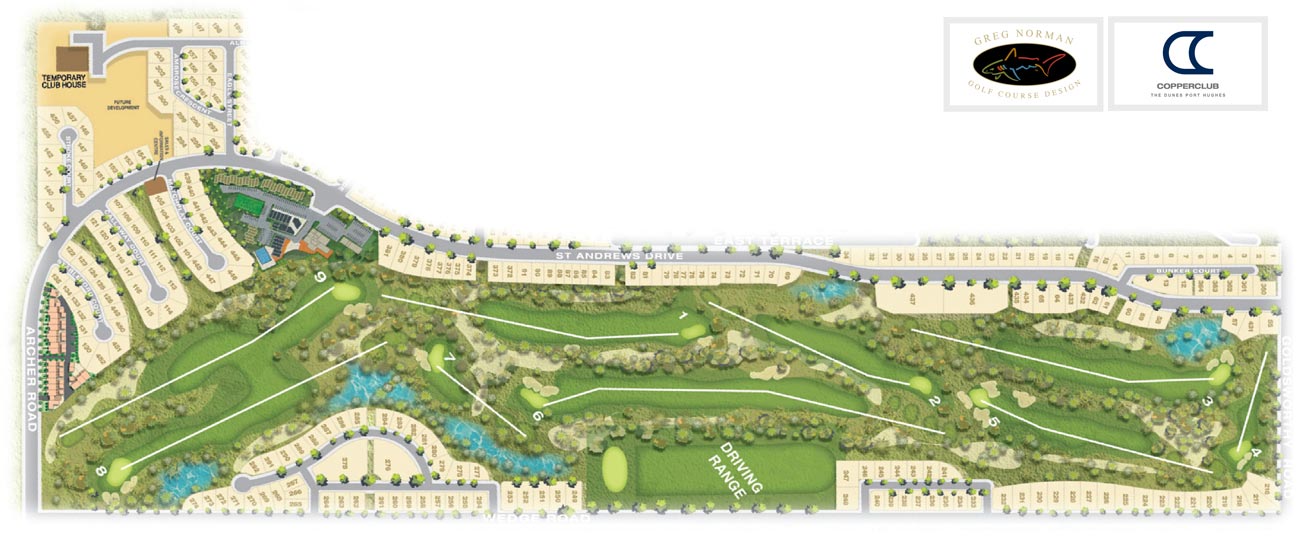 Hole 1

459 Metres (Gold Tee), Par 5, Index 14 (Men), Index 12 (Women)

Sets tone for a terrific round of golf on a true links course. With a drive aimed

over a hill in the distance, the fairway beyond slopes away to the opposite side.

There is a flat, narrow landing area in line with the undulating green which

pitches front to back. Any wayward shots are deflected into a deep bunker to

the right or a run-off area to the left that funnels golf balls well away from

the putting surface.

Hole 2

294 Metres (Gold Tee), Par 4, Index 18 (Men), Index 14 (Women)
This is a ripping short par four with a massive sandy waste bunker to the left and
dramatic bunkers guarding the right-front portion of the green in the driving zone.
This creates choices for line and length that vary considerably depending on wind
direction and speed. Unless the drive is long and true, lay up your approach left of
the bunkers and chip it on from there; this might be your best shot at par on
the plateau both depth perception and distance control.

Hole 3

362 Metres, Par 4, Index 6 (Men), Index 8 (Women)
Played through rolling terrain and with a landing area in the lower plateau, the downhill
approach shot to the putting surface, set in a natural amphitheatre, with the wide green
featuring brilliant fine shaping to produce all numbers of subtle breaks making putts
tricky. Tip: Anything landing short and left of the target feeds back toward the sandy
waste bunker, leaving an extremely difficult pitch shot or a stroke of genius for up and down.

Hole 4

138 Metres (Gold Tee), Par 3, Index 8 (Men), Index 16 (Women)
The first par-three with a green complex incorporating a large spine built on an angle
in the rear sector and rising half a metre in elevation. Such a design feature creates
extreme difficulty in getting the ball to finish on the top level especially with a gully
at the rear. Front hole-locations are also well protected by a small pot bunker and
a larger sand hazard to the left. Putting up or down the ridge requires plenty of
imagination in order to gauge the correct break and speed.

Hole 5

354 Metres (Gold Tee), Par 4, Index 2 (Men), Index 2 (Women)
This hole is ranked the most difficult hole on the course and for good reason.
The fairway centreline contains a natural hogs back running out just short of an elevated
green with a massive drop-off on the right side. These bold fairway contours allow
golfers to direct their tee shots either right or left depending where the flag is located.

Hole 6

462 Metres (Gold Tee), Par 5, Index 16 (Men), Index 4 (Women)
This is a terrific par-five encouraging attempts to steal length down the left-hand
side but bringing the out-of-bounds into play. From the fairway the player is
greeted by a semi-blind second shot where a glimpse of the top of the flag indicates
the general direction of a green shaped like a horseshoe, a wonderful design feature
harking back to the era of legendary Scottish architect Dr Alistair Mackenzie.

Hole 7

143 Metres (Gold Tee), Par 3, Index 12 (Men), Index 18 (Women)
A short hole measuring av. 152 metres and is heavily fortified down the left side by
waste bunker. The tee-shot needed to reach a green, set diagonally to the line of play,
is a towering mid iron, long fabled as a Norman trademark. Anything going long or right
ends up down below in a deep swale that presents a difficult up and down. Playing from
this mowed grass below the level of the putting surface offers several options: the putter,
some sort of wedge, or even a fairway metal.

Hole 8

364 Metres (Gold Tee) , Par 4, Index 4 (Men), Index 6 (Women)
A quite undulating fairway full of any manner of rolls and dips. The green is
set up high with only the horizon as a backdrop. This point of the course
though offers not only wonderful views of Spencer Gulf but also features
a false front and a putting surface totalling an incredible 1200 square metres
in total area. Players failing to carry their approach shot far enough often
watch in amazement as the ball rolls back toward them down a steep bank.

Hole 9

344 Metres (Gold Tee), Par 4, Index 10 (Men), Index 10 (Women)
A green which features terrific surface contours and small ridges that divides
the green into different sectors. The difficulty is further compounded by the green
opening up from the left meaning the approach is easier from this side of the fairway
adjacent to a massive vegetated sand-hill. Classic bunkering to front of the green on
the right and a run-off area to the left completes a layout full of endless fascination.